Sandro Pezzelle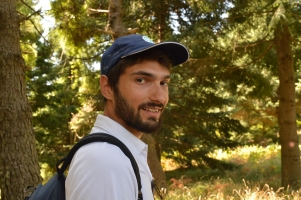 About me
PhD Student in Cognitive and Brain Sciences, track Language, Interaction and Computation at CLIC Lab (CIMeC, University of Trento) under the supervision of Raffaella Bernardi. My current research - at the intersection between Computational Linguistics, Computer Vision and Cognition - is focused on the learning of quantity expressions (numbers, proportions, quantifiers). I'm proudly member of QUANTIT-CLIC - QUANTities in Images and Text at CLIC Lab (new website!). I'd define myself as an enthusiastic, communicative, multifaceted person. Proactive and inclined to lifelong learning. "Let's try!" as a personal motto. My code is full of print.
Besides academia, I'm co-founder, project manager and artistic director of indievano and contributor for Offset Magazine (music, trends, lifestyle).
News
April 2018: Our short paper Some of them can Be Guessed! Exploring the Effect of Linguistic Context in Predicting Quantifiers has been accepted at ACL2018!
March 2018: Our long-term research project QUANTIT-CLIC has a new website!
February 2018: Our long paper Comparatives, Quantifiers, Proportions: A Multi-Task Model for the Learning of Quantities from Vision has been accepted for oral presentation at NAACL-HLT2018! See you in New Orleans!
January 2018: Our journal paper Probing the Mental Representation of Quantifiers has been submitted to Cognition!
November 2017: I visited Gemma Boleda (AMORE) at UPF, Barcelona!
October 2017: I visited Jakub Szymanik at ILLC, University of Amsterdam!
September 2017: I attended Google NLP Summit in Zurich!