Sandro Pezzelle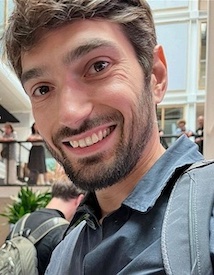 Assistant Professor in Responsible AI at the ILLC, Faculty of Science, University of Amsterdam. Affiliated with the Dialogue Modelling Group. My research combines Natural Language Processing (NLP), Computer Vision, and Cognitive Science (see my current Research lines below). I published in ACL, EACL, EMNLP, NAACL, TACL, Cognition, and Cognitive Science.
Before, I was a Postdoc within the DREAM (Distributed dynamic REpresentations for diAlogue Management) ERC project led by Raquel Fernández. And, before, a PhD candidate at CIMeC, University of Trento, under the supervision of Raffaella Bernardi (check QUANTIT-CLIC for some of my PhD work). In 2018, I was research intern at SAP AI Research.
I am a member of the ELLIS society, a faculty member of the ELLIS Amsterdam Unit, and a board member of SigSem, the ACL special interest group in computational semantics. I am part of TACL editorial team.
Research lines
Some topics I am interested in (contact me for theses and collaborations!)
Computational semantics and pragmatics: how NLP models represent words, phrases, and sentences (in context)
Language and vision: reasoning, linguistic, and communicative abilities of visually-grounded models
Cognitive mechanisms in human semantics: how speakers acquire, use, and adapt their mental representations
Interlocutor-aware text generation: can NLG models tune their style or knowledge to that of an interlocutor?
Model interpretability: how and where large language models store their knowledge and skills
News
February 2023: The preprint of our EACL 2023 paper A Psycholinguistic Analysis of BERT's Representations of Compounds is now available on ArXiV!
February 2023: Our paper Semantic adaptation to the interpretation of gradable adjectives via active linguistic interaction is out in open access! Check it out!
January 2023: Happy to share that two papers from our group were accepted at EACL 2023 (main conference)!
December 2022: More than excited to share that our journal paper Semantic adaptation to the interpretation of gradable adjectives via active linguistic interaction has been accepted for publication in Cognitive Science! Soon available in open access!
September 2022: Thrilled to welcome Michael Hanna as a new PhD student to my group! Look forward to working with him and Yonatan Belinkov (co-supervisor)!
August 2022: I'll be teaching the Higher Cognitive Functions course at the Master's Brain and Cognitive Science in September!
July 2022: I visited Marco Marelli's lab at Milano-Bicocca. Thanks, Marco and colleagues, for the nice welcome!
April 2022: I spent two weeks at CIMeC, University of Trento, visiting Raffaella Bernardi and her lab!
March 2022: We'll present our paper Word Representation Learning in Multimodal Pre-Trained Transformers: An Intrinsic Evaluation at ACL 2022!
March 2022: Our paper Less Descriptive yet Discriminative: Quantifying the Properties of Multimodal Referring Utterances via CLIP has been accepted at the CMCL workshop co-located with ACL 2022!