Sandro Pezzelle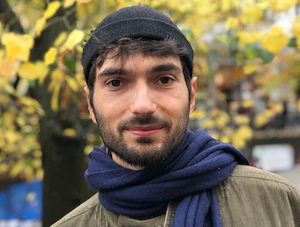 About me
Assistant Professor in Responsible AI at the Faculty of Science of the University of Amsterdam. My work is at the intersection between Natural Language Processing, AI and Cognitive Science.
Before, I was a Postdoc within the DREAM (Distributed dynamic REpresentations for diAlogue Management) ERC project and member of the Dialogue Modelling Group led by Raquel Fernández.
In 2018, I obtained a PhD in Cognitive and Brain Sciences, track Language, Interaction and Computation, at CIMeC, University of Trento, under the supervision of Raffaella Bernardi. During my PhD, I focused on the learning of quantity expressions from their use in multimodal contexts (see QUANTIT-CLIC). I was intern at SAP AI Research.
In 2021, I'm Program co-Chair of EurNLP, co-Organizer of LANTERN at EACL and co-Editor of a Frontiers Special Issue on Language and Vision.
I'm an enthusiastic. "Let's try!" is my personal motto.

News
September 2021: Our paper Word Representation Learning in Multimodal Pre-Trained Transformers: An Intrinsic Evaluation has been accepted for publication in TACL!
September 2021: I've been appointed Assistant Professor in Responsible AI (tenure track) at the University of Amsterdam. Look forward to starting this new journey!
August 2021: I'll be teaching the NLP1 course (together with Wilker Aziz) at the MSc AI in November!
June 2021: The paper Linguistic issues behind Visual Question Answering by me and Raffaella Bernardi has been published open access in Language and Linguistic Compass!
June 2021: The paper Probing Cross-Modal Representations in Multi-Step Relational Reasoning has been accepted at the RepL4NLP workshop co-located with ACL 2021!
March 2021: I'll be teaching the Higher Cognitive Functions course at the Master's Brain and Cognitive Science in September!
March 2021: The paper EaSe: A Diagnostic Tool for VQA based on Answer Diversity in collaboration with TU Kaiserslautern, DFKI and SAP AI has been accepted at NAACL-HLT 2021!
January 2021: The RPA Human(e) AI project Exploring Adaptation of Conversational Systems to Different Age Groups has officially started!
January 2021: Proud to be one of the co-Editors of a Special Issue on Language and Vision by Frontiers!
October 2020: The paper Grounded and Ungrounded Referring Expressions in Human Dialogues... in collaboration with University of Trento has been accepted at CLiC-it 2020!